Faculty of Urban and Regional Development Discusses Transformation of Post-Socialist Cities at an International Conference in Serbia
Vera Smirnova, Ivan Mitin, Varvara Molodtsova, and Alexander Mikhaylov spoke at the 8th Urban Geographies Conference held at the University of Belgrade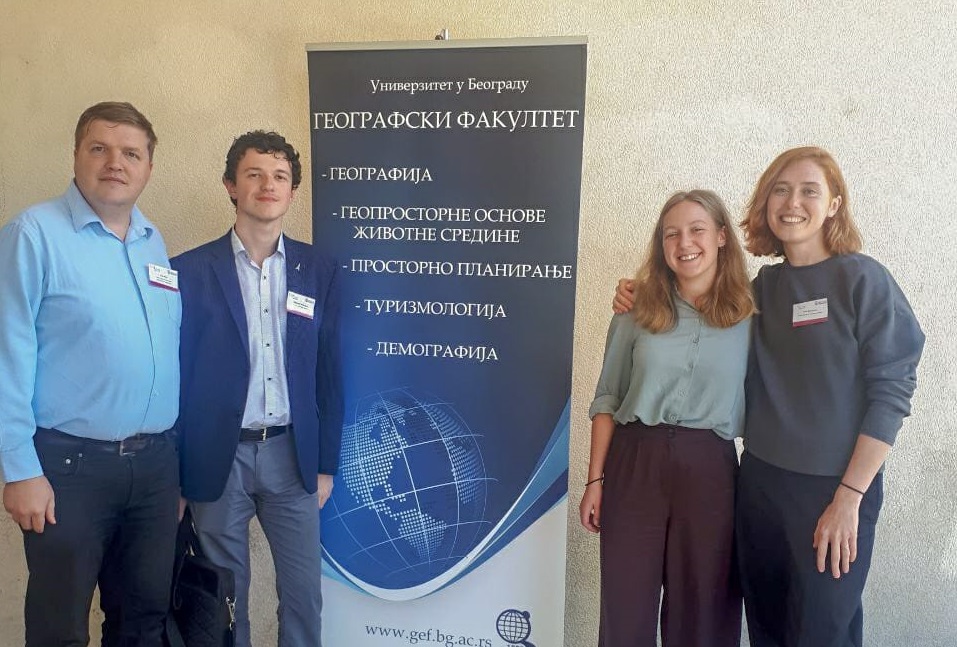 Every two years, scholars, urbanists, and specialists from Central and Eastern Europe gather at the Cities after Transition Conference, which is devoted to the development of post-socialist cities. Participants analyze cities' unique and common features, identify developmental trends, and discuss cities' contributions to the wider sphere of urban theory. On September 25–29, 2019, CAT-ference 2019: 8th International Urban Geographies of Post-Communist States Conference was held in Belgrade (Serbia). Over 200 experts from over 15 countries participated.
This year, the conference began with a plenary session on major events in urban space, which was organized, per tradition, by the International Journal of Urban and Regional Research (IJURR). The participants focused on urban geopolitics. Students and researches from different European universities engaged in lively discussions about divided and contested Eurasian cities, mobility in the post-socialist areas, shrinking cities, and suburbanization, to name a few of the topics.
At a panel on geopolitics and national identities, Vera Smirnova, HSE postdoctoral research fellow of the Institute of Regional Studies and Urban Planning, discussed a study she conducted jointly with Oleg Golubchikov in her paper entitled, More-Than-State Ontologies of Territory from Russian Political Geographic Perspectives. She talked about developing a de-colonial approach to studying the concept of territory from a Russian standpoint. She drew upon traditional political geography studies from the late imperial and socialist periods in developing her approach.
Ivan Mitin, Associate Professor of Vysokovsky Graduate School of Urbanism and Head of the Urban Cultural Geography Research and Study Group, gave a talk at one of the theoretical and methodological panels of the conference. His paper, entitled Post-socialist as Palimpsestic: Embracing the Multiplicity of Places by Means of Cultural & Regional Geography, Space Semiotics & Place Branding, discussed a theoretical framework for conducting complex interdisciplinary research on cities. He showed how the metaphor—and later, model—of the city as palimpsest took root. The model, he suggests, underscores the multi-voiced structure of any city and forms as a result of the coexistence of elements with different ages and different functions, in addition to the diverse perceptions of the given territory held by different social, professional, and ethnic groups, as well as other individuals.
Alexander Mikhaylov, a second-year master's student of HSE University, and Varvara Molodtsova, a researcher at the Faculty of Urban and Regional Development (both are members of the Urban Cultural Geography RSG) presented at the panel, 'Historical Legacies and Reconstruction of Urban Identities'. Their paper was entitled Transformation of Local Identities in Peripheral Districts of Large Post-Socialist Cities (A Case of Yasenevo, Moscow, Russia). The paper outlined their findings in a study that examined the manifestation of local identities in different spatial dimensions, such as the city, districts, or sub-districts. The combination of typical aspects of urban periphery and a huge hidden potential of local cultural landscape allowed the researchers to quantify the impact of urban post-socialist transformation on the local identities of residents of Yasenevo.
The presentation was followed by a discussion, during which the panel participants shared their perspectives on the correlation between identity, place, and 'placelessness', and the unique character of spatial experience. The participants also discussed a potential transposition of the Yasenevo model to districts of Moscow and other rapidly transforming post-socialist cities.
For the programme of the conference, visit the conference website. A Photo Gallery of the event is also available there.